Take a Hot Lap in the 2020 C8 Corvette
If you've been under a rock, then maybe you haven't heard, but the new Corvette has moved the engine behind the driver. Something that has been rumored for decades but has never happened. There are a number of other changes as well, like a brake-by-wire system and no available manual gearbox. That's right, this Corvette can only come with a dual clutch transmission.
Research the Chevrolet Corvette on MSN Autos | Find a Chevrolet Corvette near you
As part of our 2020 Performance Car of the Year testing, we lapped the contenders at Thunderhill Raceway's west course to get a baseline of what they could do. I'm the one driving these laps, and there are a few things I should make clear before you view the video and then start commenting on Reddit about the lap:
I'm not a pro, but am a licensed club racer.
This is the first day I've ever spent at Thunderhill West, so the laps aren't perfect.
The idea isn't to run an all-out record, but instead to make sure we get a representative time for the car.
The Corvette ran a 1:22.80, very quick. But that doesn't tell the whole story.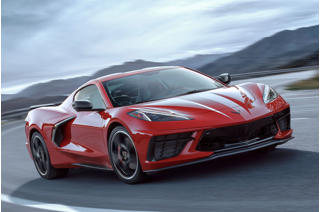 The first thing you notice is just how quickly the thing turns in. While the ratio for the steering is nearly the same as the C7, you're sitting further forward, so everything feels more immediate. The steering is either overly light or overly heavy, and doesn't say too much in the way of feedback. But it's accurate. My first reaction was that it somehow still felt like a Corvette, a crazy thing to say about a car that has had a fundamental change in layout and construction.
More time spent then made you realize quirks. It enters understeer readily, and needs a big swing at the gas or a huge lift to upset it and induce oversteer. It has massive grip on corner exit, the whole intent of this change was to make sure it could hook up. Of course, the old Stingray also hooked up just fine, but when there's an extra 100 or 200 horsepower out back, it'll be bananas how it'll get out of a corner.
Research the Chevrolet Corvette on MSN Autos | Find a Chevrolet Corvette near you
This car is laying groundwork for something spectacular. Something with a hybrid front axle, perhaps. Something with a flat-plane crank V-8. Something that will ruin a McLaren at a third of the price. Right now, it's incredibly capable, but makes us want more.
dtinews.org sport Take a Hot Lap in the 2020 C8 Corvette
Related News
The all-new Chevy Corvette C8, with its mid-engine layout, weighs significantly more than the outgoing C7 generation. We weighed a 2020 C8 coupe with the Z51 Performance package and found that it
Last corner. Hairpin, zero camber. Be patient with the throttle, or it'll just push. Start to unwind the wheel, roll hard into the throttle. Let all that weight in back dig in and put the
For Andrew Aquilante, winning Saturday's GT-2 race at VIRginia International Raceway at Alton in the SCCA Runoffs and taking the national championship in the class was the perfect culmination
"Let's launch this road rocket!" Former astronaut Bruce Melnick enthusiastically kicked off the debut of the 2020 Chevrolet Corvette Stingray convertible. He wasn't far from home as General Motors chose the Kennedy Space Center for the world
Atlanta - The all-new Corvette C8.R race car that debuted Thursday at Road Atlanta marks an onslaught on international racing with Chevrolet's first-ever mid-engine production sports car. Sporting a large wing, lightened chassis and a different
The new Corvette race car gears up for the track. It's official: The new C8.R race car's mid-mounted V-8 is a dual-overhead-cam design and incorporates a flat-plane crank! In the midst of scheduled practice for
Back in July, when we revealed exclusive pictures of the Corvette's interior, we noted high performance variants have been under development for a long time. We also teased the fact that a 5.5-liter V8
More News in Sport
(Photo by Christian Petersen/Getty Images) A woman has filed a civil lawsuit against Trent Brown in a California court earlier this week, alleging that he physically assaulted her on multiple occasions. According to Pro
How does one earn the praise of an NBA legend during a meaningless preseason game? By hitting eight 3-pointers in one quarter, of course. Boston Celtics rookie Carsen Edwards accomplished that mission Tuesday night in Cleveland by
The Washington Nationals are heading to the World Series - and they're taking an unlikely anthem with them. "Baby Shark," the popular children's song that miraculously cracked the Billboard Hot 100 chart earlier this year, has
Sportsnet Staff |@Sportsnet Sportsnet [email protected] The Toronto Blue Jays will return to Montreal next spring for a pair of exhibition games against the New York Yankees. It's the seventh consecutive year the Blue Jays will play
Shortly after Game 3 of the American League Championship Series had ended, the Houson Astros went about their usual postgame routine, changing, packing their things, and talking to reporters, before heading for the team bus.